Be the master of your boot! The one and only product to transport all your things securely! things securely! Makes Life Easier!
Position and Fasten Quickly !
Our trunk assistant helps to keep up the daily routine quickly.
You can fasten in seconds and continue the journey.

Strong and Dependable !
Cargonizer cargo organizers ensure that during your journey you transport the items in your boot securely.
A peaceful drive in your car !
Cargonizer lets you have a journey that's peaceful and enjoyable. Your belongings won't turn over and won't be thrown around.
Suitable for all your needs !
Our luggage arranger is suitable for everything that you want to carry. Every kind of item you can think of, you can fasten them down in your boot with Cargonizer.
Powerful asistant in your boot
Cargonizer fixes in place weights of up to 160 kg and Cargonizer Mini up to 50 kg. It is made from material that is reinforced, long-lasting and can be %100 recycled.
Your Space !
Cargonizer doesn't limit you like the others.
Moduler Design
Even small products (like small bottles) difficult to keep are not a problem anymore with Cargonizer utility products.
When you're driving your car, you don't like the noises that come from your luggage, do you? I wonder which of my things has turned over. Did it get broken? These are the thoughts which keep crossing our minds when travelling with our luggage in the boot. They make us anxious, they lower our concentration in traffic and make an accident more likely. They are reasons why we travel under stress to a picnic that we are supposed to be going to enjoy or to the firm. Cargonizer lets you have a journey that's peaceful and enjoyable. Your things won't turn over and won't be thrown around. You continue on your way in peace and security, and reach your destination safely.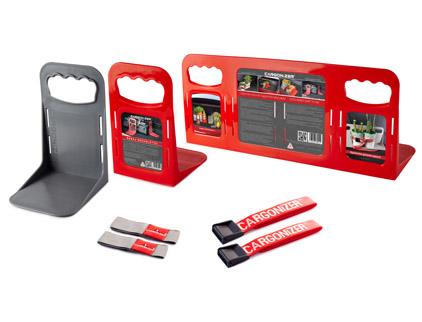 Super Pack All You Need in One Pack
All Our Cargo Asistants Together With Super Pack Discount
1x Cargonizer + 2x Cargonizer Mini + 2x Elastic Strap + 2x Utility Belt
---
Large Pack Bigger Works Need Bigger Solutions
The most advantageous package that can provide solution for all kinds of carriage needs in business and daily life. Your trunk assistants are ready any moment.
2x Cargonizer + 4x Cargonizer Mini + 4x Elastic Strap + 4x Utility Belt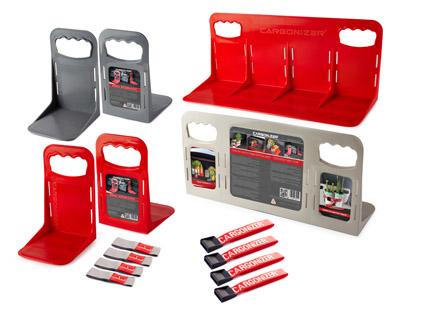 ---
No need to worry any more about belongings being thrown around

Strong

Secure
Cargonizer is ready to help any time you need it!